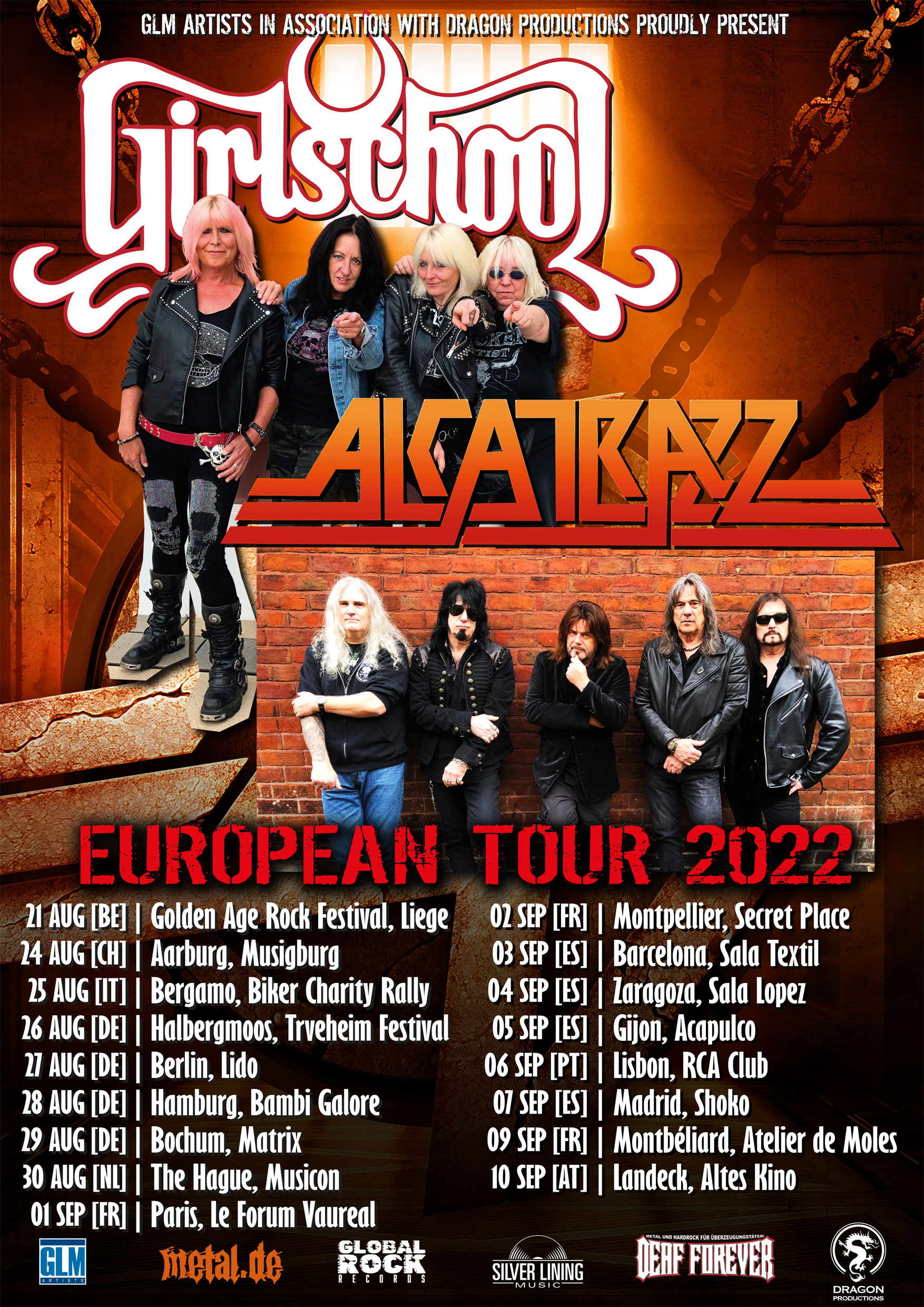 GIRLSCHOOL + ALCATRAZZ
European Tour 2022
Dragon Productions & Deaf Forever present
GIRLSCHOOL + ALCATRAZZ Tour 2022
GIRLSCHOOL + ALCATRAZZ Co-Headliner Eurotour 2022
After a successful co-headlining UK tour, Alcatrazz and Girlschool now hit Europe for yet another run together. Both bands providing an in-your-face evening of full volume Heavy Metal!
ALCATRAZZ:
With neo-classical "shred lord" Joe Stump on guitar, founding members Jimmy Waldo and Gary Shea, plus the addition of Doogie White, Alcatrazz is offering a high energy metal show covering the Alcatrazz classics plus Doogie's own work as a member of the Michael Schenker Fest and Ritchie Blackmore's Rainbow.
Newly joined by drummer Larry Paterson formerly of Blaze Bayley, this is a metal supergroup in the true sense of the word.
Alcatrazz's latest album "V" was critically acclaimed and sold extremely well around the world in 2021, the band is forging ahead touring and working on new music and will continue in this powerful heavy direction into 2022 and beyond.
GIRLSCHOOL:
Girlschool is a British rock band formed in the New Wave of British Heavy Metal scene in the 1970s and is frequently associated with contemporaries Motörhead. They are the longest-running all-female rock band, still active after almost 40 years.
Originally formed in 1975 from a school band called Painted Lady, Girlschool enjoyed strong media exposure and commercial success in the UK in the early 1980s with three albums of "punk-tinged metal" and a few singles.
During their career, Girlschool traveled the world, playing in many rock and metal festivals and co-headlining with important hard rock and heavy metal bands. They maintain a worldwide cult following and are an inspiration for many female rock musicians. Despite frequent changes in the lineup, original members Kim McAuliffe, Denise Dufort, and long-tenured member Tracey Lamb are still in the band. The only original member no longer in the band, lead guitarist and singer Kelly Johnson, died of cancer in 2007.
Dragon Productions, metal.de & Deaf Forever present
GIRLSCHOOL + ALCATRAZZ Tour 2022
Tickets: https://bit.ly/3OGvtU9